Memories to last a lifetime…
We've been making wedding films for 10 years and in that time we've captured special memories for our newlyweds to relive time and time again with their family and friends. We frequently hear how happy they are to have it all captured on film.
The day flies by and there is so much going on. Being able to look back on precious moments and see things you may have missed is something that you will treasure forever.
Filming with multiple videographers, we create a detailed and creative story of your day. From the morning preparations, to the ceremony itself, the reception, the speeches, the first dance and the party that follows.
We can even get personal messages from your guests to the camera too. We film in an unobtrusive manor, whilst having fun and blending in with your guests as they enjoy your wedding day.
We're there to capture it all. The emotion, the tears, the laughter, the fun and the unique personality of your day. Bringing it all together to create a lasting memento of that moment in time.
Have a look at some of our films to see how we capture these wonderful occasions, read the kind words from some of our previous couples, or have a look through our Frequently Asked Questions. For any further information, please get in touch.

Wedding Showreel

Wedding Packages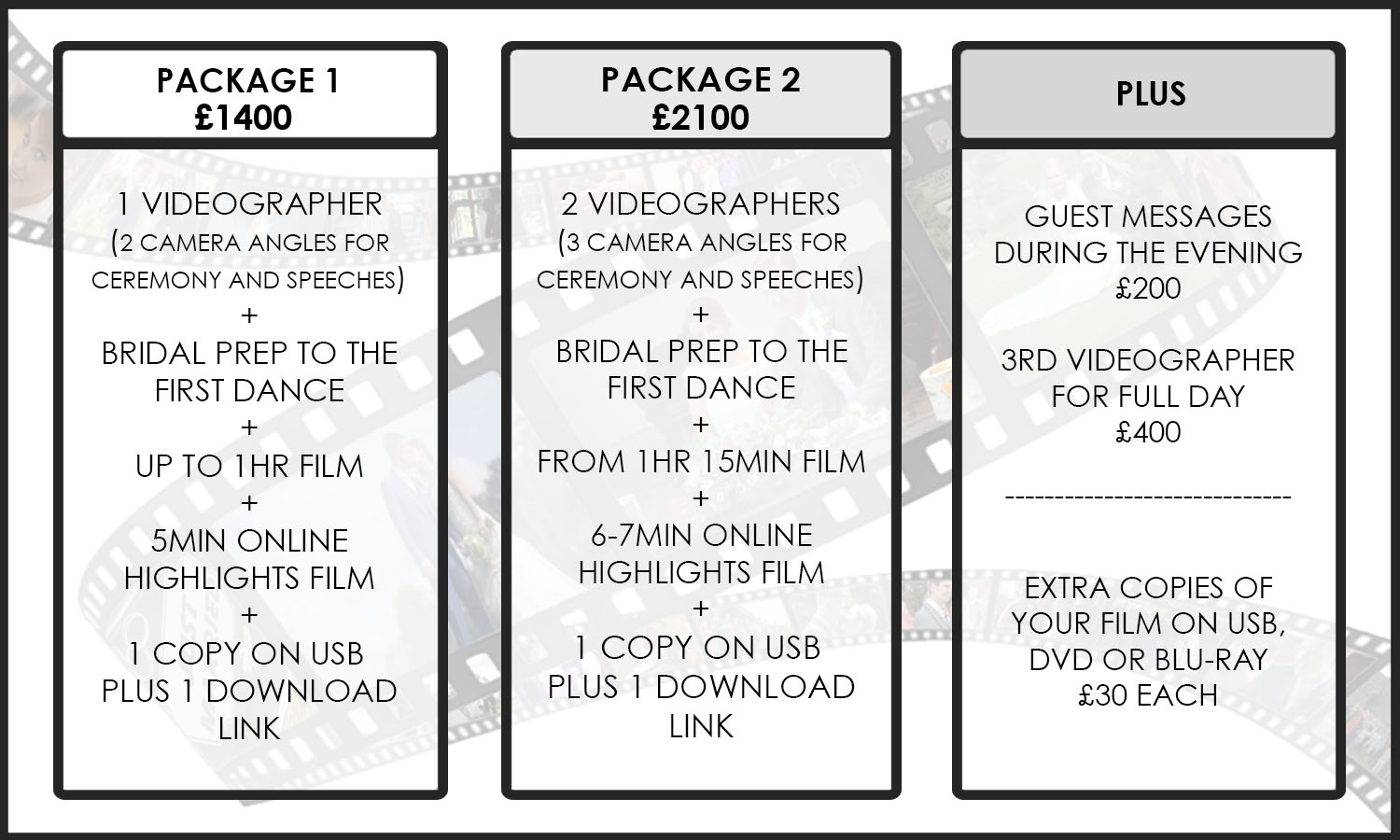 Wedding Testimonials
From the first time we met Jamie, we were really impressed with how professional and helpful he was. He listened to everything we said we wanted from the day. He did so many little things on the actual day for us that weren't expected of him at all. From helping me with my wedding dress to taking my Mum and Son home at the end of the night, even though he must of been shattered. My husband to be had surprised me by secretly booking Jamie to film our wedding and I was thrilled. Some of my family were a little apprehensive about having cameras on the them all day as well as the photographer, but I can honestly say we barely even knew they were there. They arrived promptly and immediately made me feel at ease and didn't get in the way at all when we were all running around getting ready. We were chuffed to bits when Jamie got our wedding DVD back to us so quickly after the wedding and I have to say it is absolutely amazing!!! We couldn't have asked for anything better and after about 20 times of watching it with family and friends, it still makes me cry! I would highly recommend Jamie, he is a lovely, lovely man and I am really pleased to have made a new friend as well.

Leanne & David Howe
Chapel-en-le-frith, High Peak
We were absolutely thrilled with our wedding DVD - within 30 seconds of putting it on we were both in tears! Jamie captured all of the special moments perfectly. It was also wonderful for us to see the parts of the day we missed when we were otherwise occupied. We gave Jamie free rein with much of the music and it was spot on. The tracks he chose fitted the moments and the emotions perfectly. We watch our highlights clip very regularly, and everyone who's seen it has said how fantastically it sums up the key parts of the day. Jamie and his team were great to work with - friendly, fun, easy-going and flexible from the word go; happy to accommodate our requests while also making suggestions. We can't thank you enough and are so happy we used you to film our special day. It's so true that the day goes by in a flash and it's great to be able to watch the DVD or the highlights clip and relive it all. Thank you!

Sarah & John Davis
London
Jamie and his team shot our wedding in March 2016, and we were so happy they did! Jamie was very supportive leading up to the day and he had a real understanding of what we wanted. He also helped us with music choices for our DVD too. On the day, he made us feel so relaxed, and the outcome was a very natural and beautiful representation of our day. Jamie has also shot 2 other weddings in our family, so having someone we knew we could trust was a real comfort. Jamie and his team have a great eye for the natural shot. They were able to capture some beautiful moments of our day, and some fantastic shots of the all important dancing in the evening! We highly recommend The Agnew Film Company and will be forever grateful for the wonderful memories they were able to capture for us to keep.

Debbie & Ian
Jamie and his team worked with us before our big day to arrange what we wanted from the DVD. They were with us from about 10am and stayed with us the whole day until after midnight. We hardly knew they were there as they blended into the background, capturing every moment of our special day. They really did work so incredibly hard all day and did everything they could to make this memory the best possible - which it is! They captured everything we wanted, from the sentimental to the hilarious, the action and the beautiful! They also did a 'Perfect day' video (which is brilliant!) and the guests who took part enjoyed it and it's made for a fun watch for all, highly recommended. My fav is the highlights though, which captured all the best bits of the day in a few minutes. The way they used the music and the slow-mo is fantastic, everything that I asked for and more. We love every last bit of it so THANK YOU SO MUCH! It was a pleasure to work with them and I definitely recommend them to everyone! Worth every minute and every penny. A wedding day is one you should never forget and it is great to see parts of the day that I missed or had forgotten. I have watched it over and over and enjoyed sharing with family and friends. Thanks for everything!

Becky & Dave Ayrton
Sheffield
Jamie and his team were very professional and friendly from the very start. We got on really well with him, which is what you want when he's spending a lot of time with you on your wedding day. Once we'd seen his promotional video we had our heart set on a video to help us remember our special day and we knew it was Jamie and his team that we wanted to film it. We had a few worries beforehand about cameras being present and being camera shy but Jamie reassured us that he'd blend in and we wouldn't notice them. He was so right and we're so glad we got our special day captured on film. We've watched our day back so many times. I whole heartedly recommend The Agnew Film Company! (You won't be disappointed) our video is perfect.

Tracy & Alex Hewish
Buxton, Derbyshire
We can't thank you enough for the beautiful video you produced for our wedding. You captured all the important moments perfectly without us even realising you were there! The professional quality and service you provided from the moment we booked you, right up until receiving the finished product, has been flawless. What we have is a perfect memento of our day that can be relived again and again. Thank you!

Fiona & Chris Kitson
Bradford
Jamie did and incredible job on the day of our wedding. So much so, two other members of our family have since hired him to shoot their weddings. He is really flexible, and his experience means he know where to be and when, but without being too intrusive or demanding of the wedding party. He is able to build up a quick rapport with guests and the venue, and seems to be in the right place at the right time to capture all those special moments throughout the day that you don't necessarily get to see as the Bride and Groom. The end result is always stunning. I am involved in story-boarding and editing videos in my job, and it's rare I don't have any amends to make. Jamie's first cut was perfect.

Sammy & Paul Simpson
Buxton, Derbyshire
Jamie and the team did an absolutely incredible job shooting our wedding video; so much so that over a year later we still watch our highlights video if we've had a rubbish day and it cheers us up straight away! On the day itself, they made us feel relaxed and at ease which was certainly appreciated. It just shows the personal touch they bring to each wedding. In spite of having three cameras with us from getting ready in the morning until partying way into the night, we never felt that they intruded once. We also chose the option of making a Marryoke video, for which they had to rally and direct our family and friends - a tough ask (!) but they did so with humour and even now the video makes us cry with laughter. This added extra combined with shooting the full day can't have been easy, but they still managed to capture everything perfectly. I don't know how he managed to do it but Jamie edited the full day's footage and highlights film so wonderfully. Without having to ask he used lots of the music we had requested via the DJ on the day. Without a second of hesitation we would recommend anybody looking for a perfect and personal wedding video package to book Jamie and his team, you won't regret it.

Katy & Andrew O'Mara
Bury

Wedding FAQ's